This step-by-step guide will show you how to set up Google Postmaster Tools and start getting valuable information about your mailing reputation, authentication, spam complaints, and more in 5-10 minutes, tops.
Create Account
First, go to https://postmaster.google.com or https://gmail.com/postmaster/
(You'll need a Google/Gmail account to create a Google Postmaster Tool account)
Add Domain
Then, click the big red circle in the bottom right.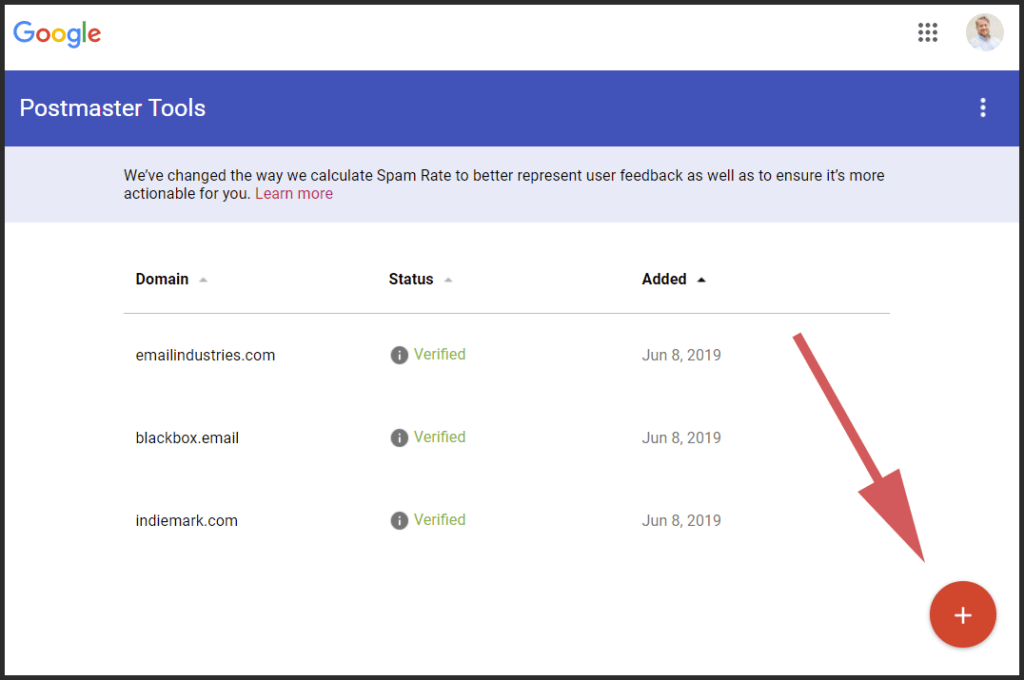 (If you have multiple Google accounts, make sure you're logged in with the account you want to add the domain to. You can verify this by clicking on your avatar in the upper-righthand corner.)
Lastly, enter your domain name and click next.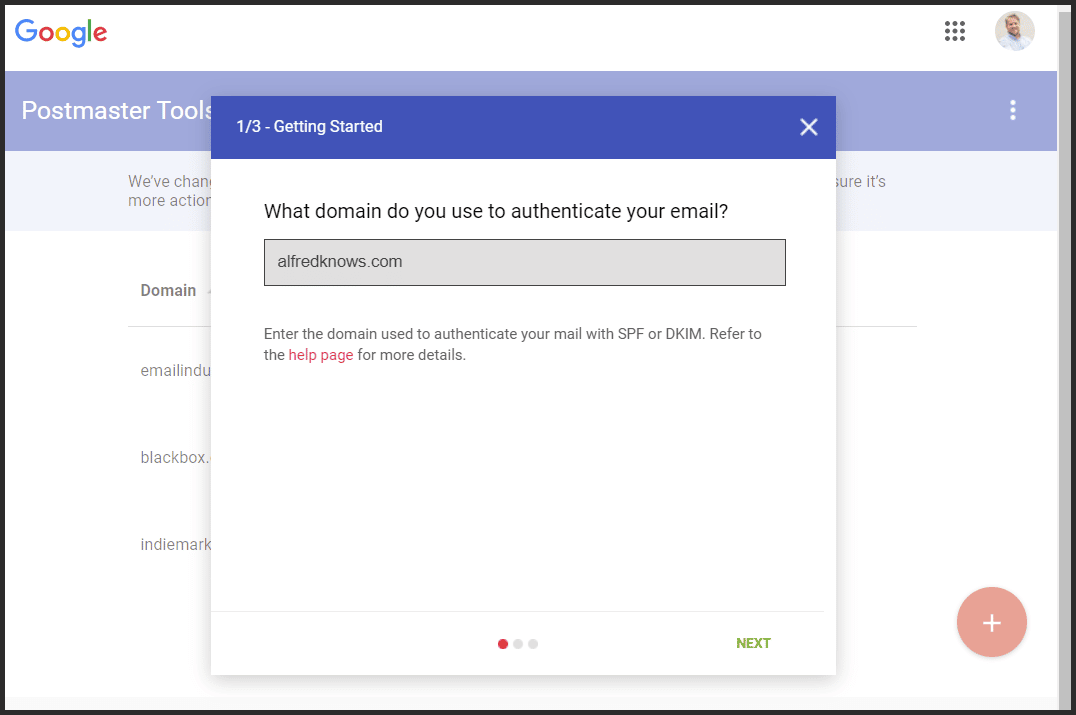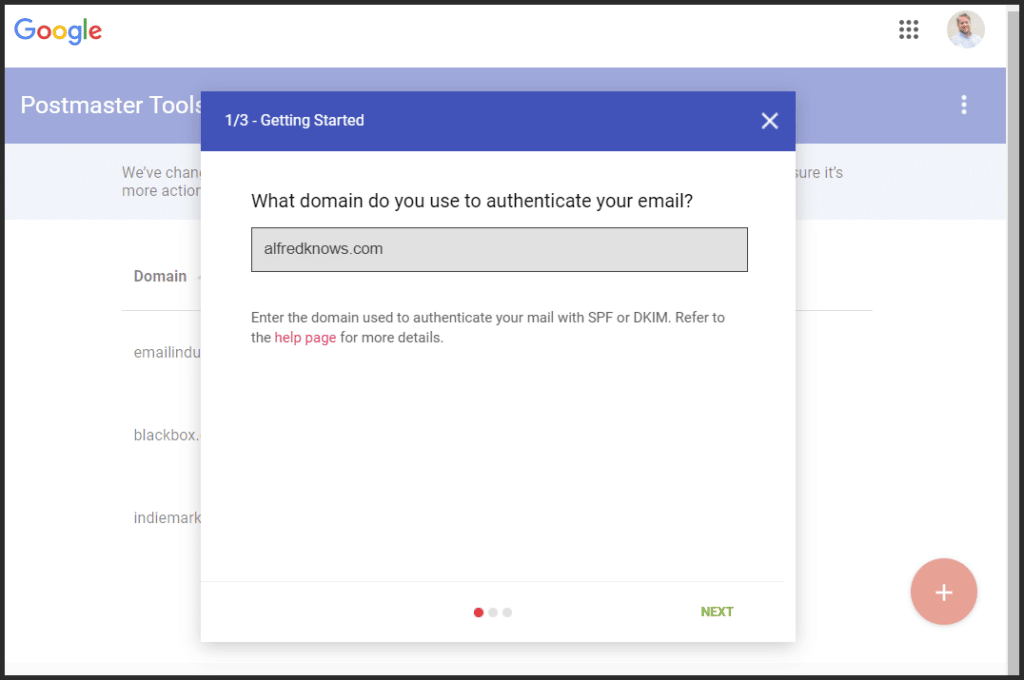 If you're using subdomains to send email (ex: a.alfredknows.com or b.alfredknows.com), we recommend simply adding your root domain (alfredknows.com) as that gives you the access to the root domain and all subdomains.
Copy TXT Record
If Google hasn't already verified your domain (which you might already have done in Google Search Console), you'll be asked to add a TXT record to your DNS for the domain and verify ownership.
First, copy the TXT record (ex: google-site-verification=B7W8gMj232) then save it to your local computer (you may need it later).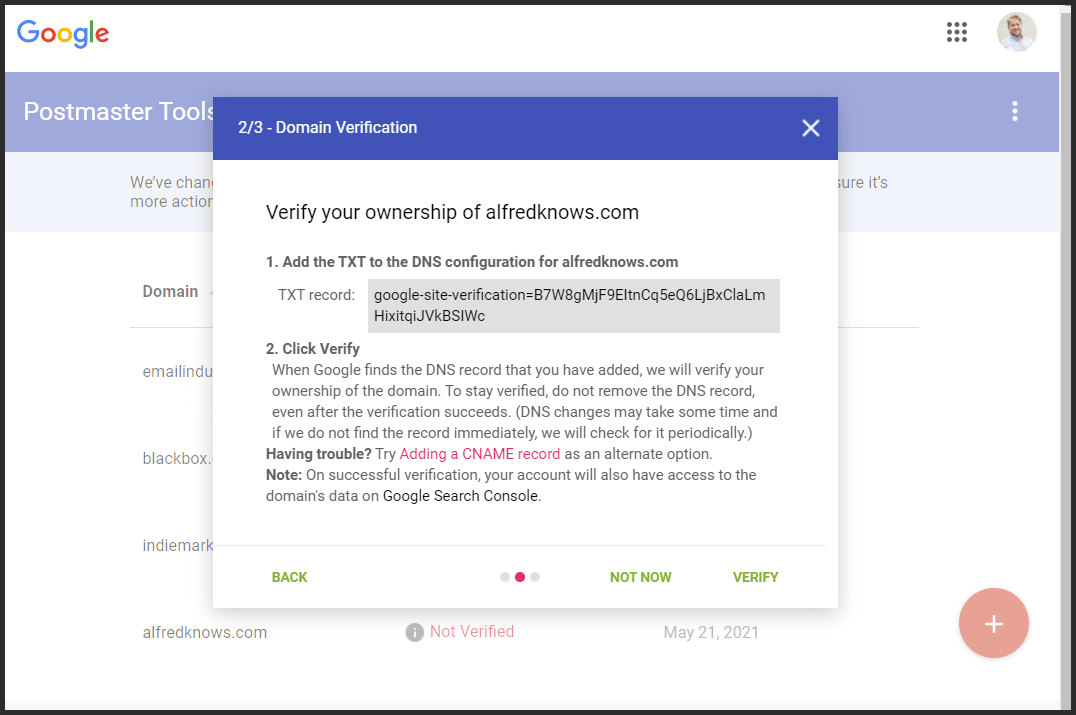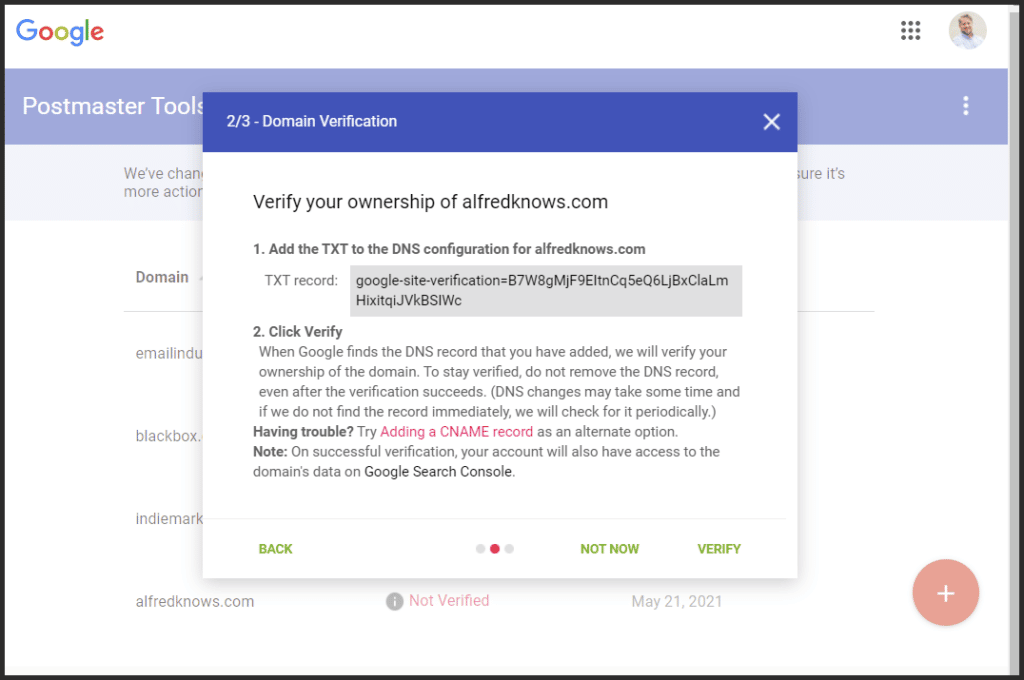 Add TXT to DNS
This is easier than it sounds, but know that you have two options for adding a TEXT record to your DNS. Here's how to do both.
Ask for Help
Send the exact text string to whoever is maintaining your DNS, it's usually the IT person. Tell them "We need to add this TXT record to our DNS so that we can monitor our deliverability at Gmail."
Do it Yourself
Learning how to set up Google Postmaster tools is super easy, but how you add that TXT record depends on your DNS provider (e.g. GoDaddy, Cloudflare).
Most providers have their own ways of doing things, but here is the general process:
Log into your DNS provider and find the domain in question.
Under the DNS settings, you should find a place where you can add a TXT record. *
* Sometimes the button is labeled "add record" or "add" but you might be looking for "edit zone" or similar.
Do it Yourself (GoDaddy Example)
Go to your domain name details
Then "Manage DNS"
Click "Add"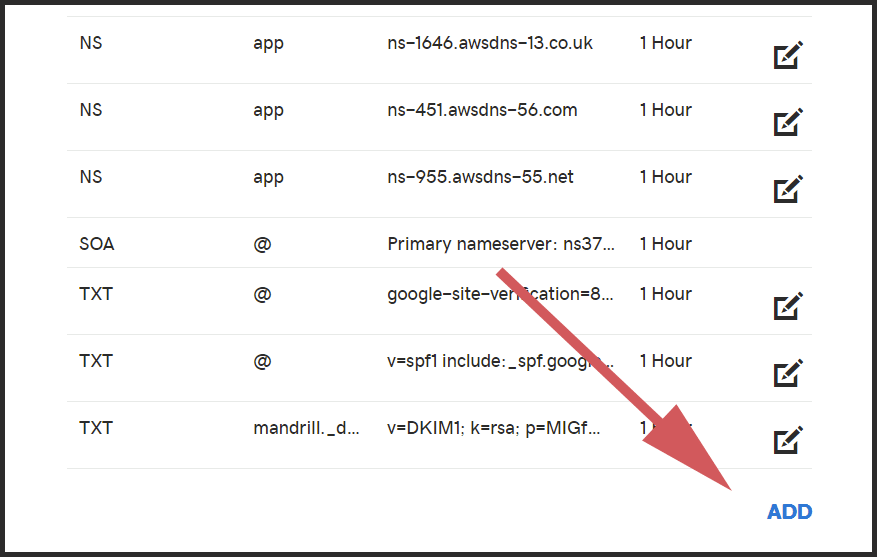 4. Select TXT from the dropdown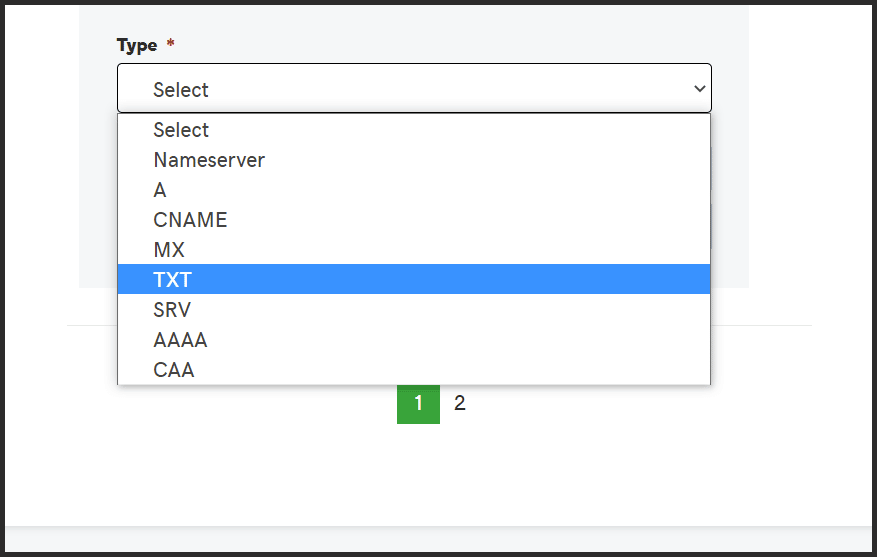 5. Enter "@" in the Host field (you may be able to leave this black at DNS providers)
6. Paste the text string provided by Google into the Value field
7. Leave the TTL field at its default setting.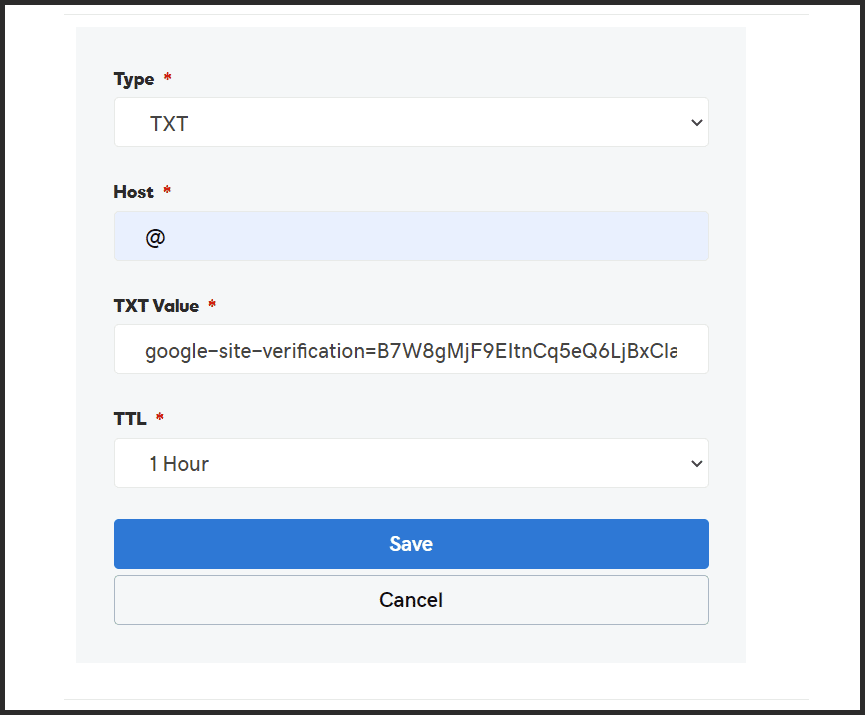 8. Save (the button may be labeled "Create" at your DNS provider)
6. Go back to Postmaster Tools, click Verify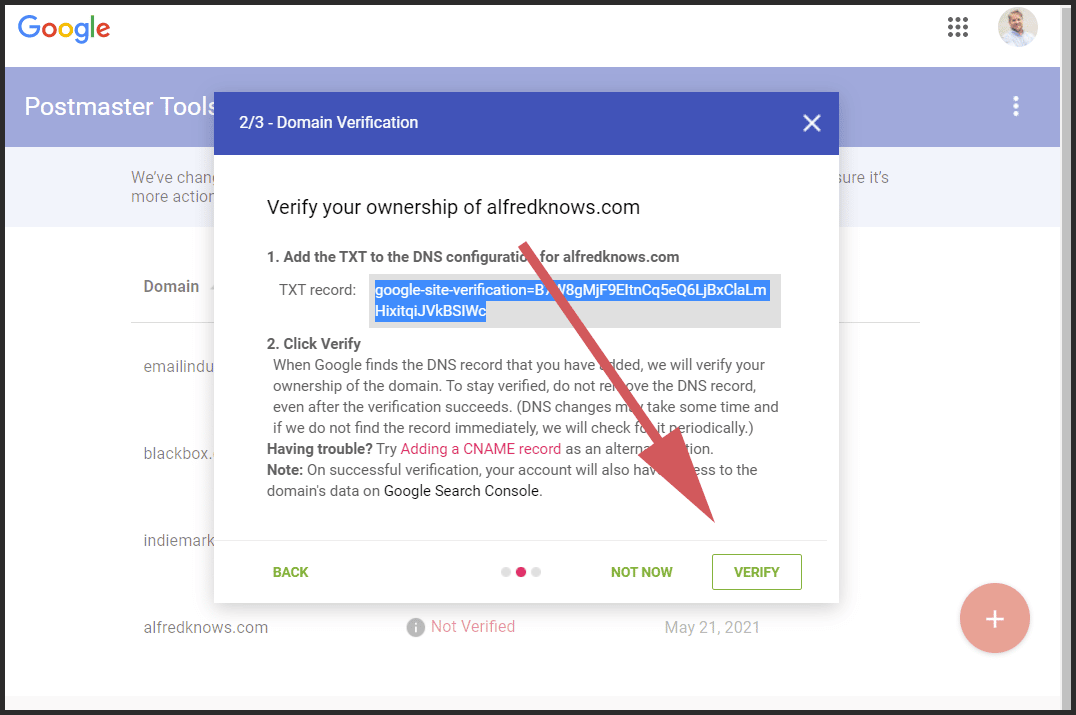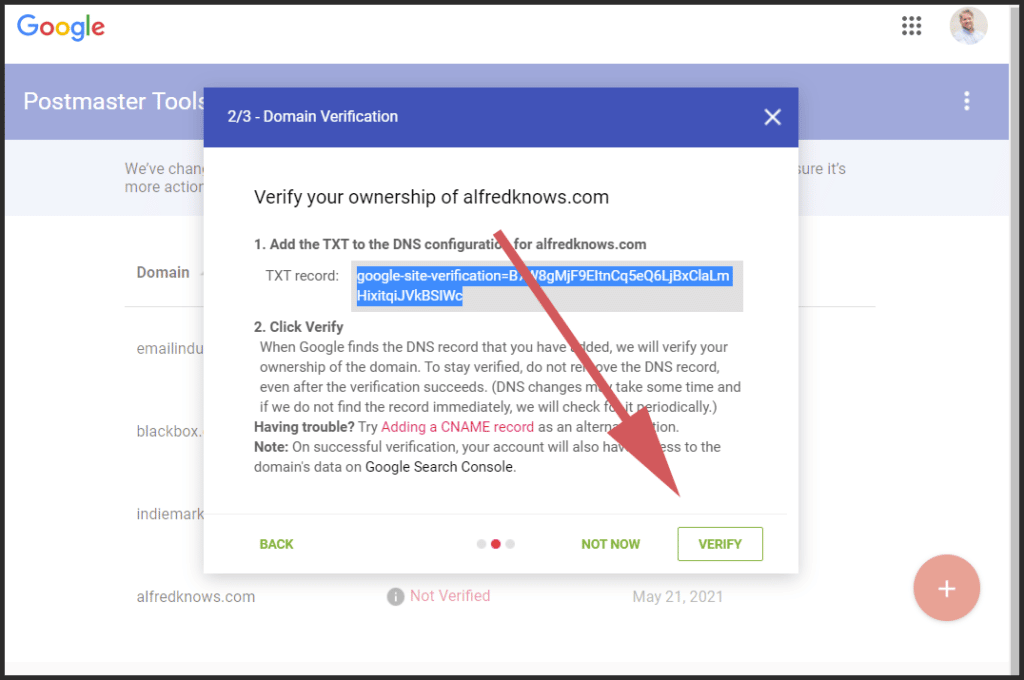 7. Bam! You're all set.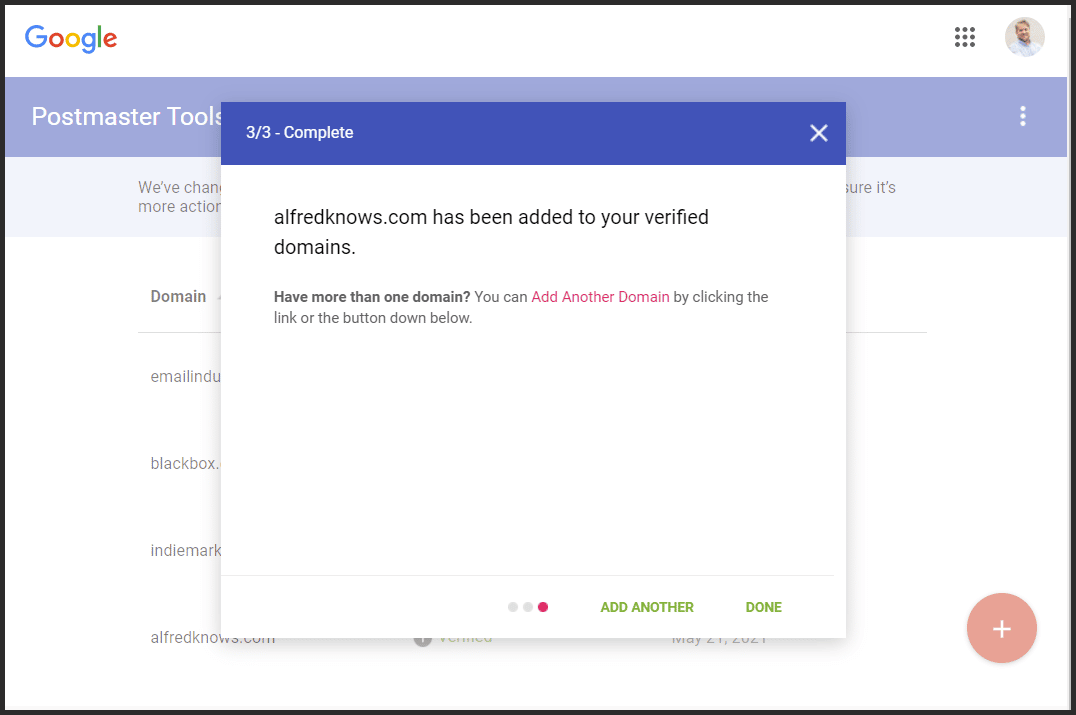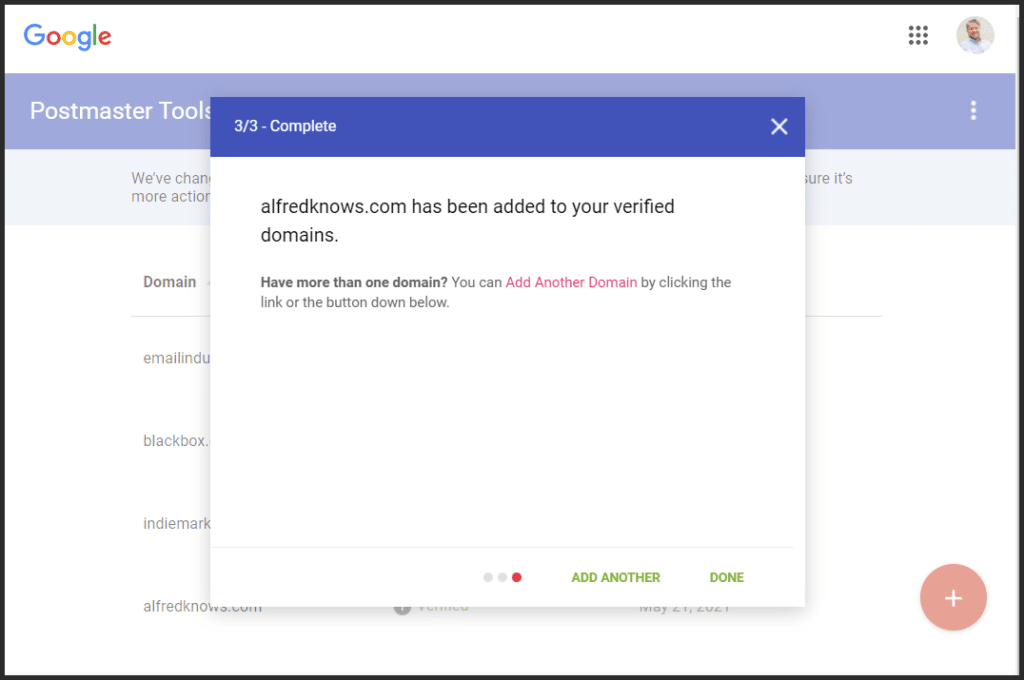 Couldn't verify domains in Google Postmaster Tools?
If your domain setup uses CNAME records, as opposed to TXT records; follow these steps next.
Click on the 'Adding a CNAME record' link.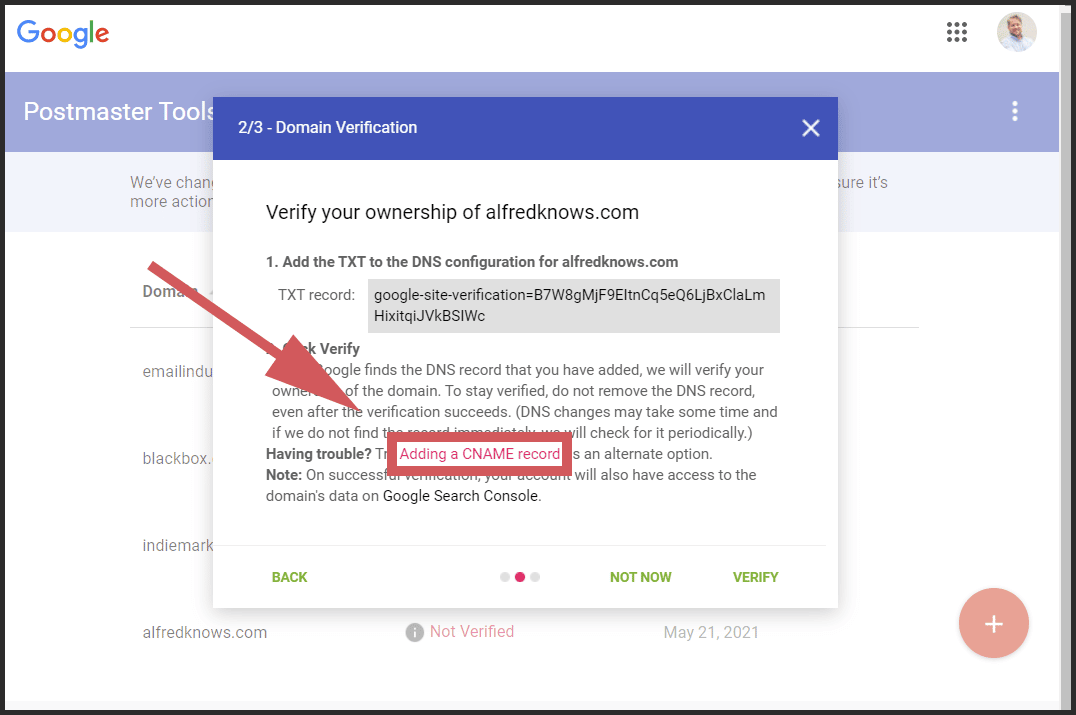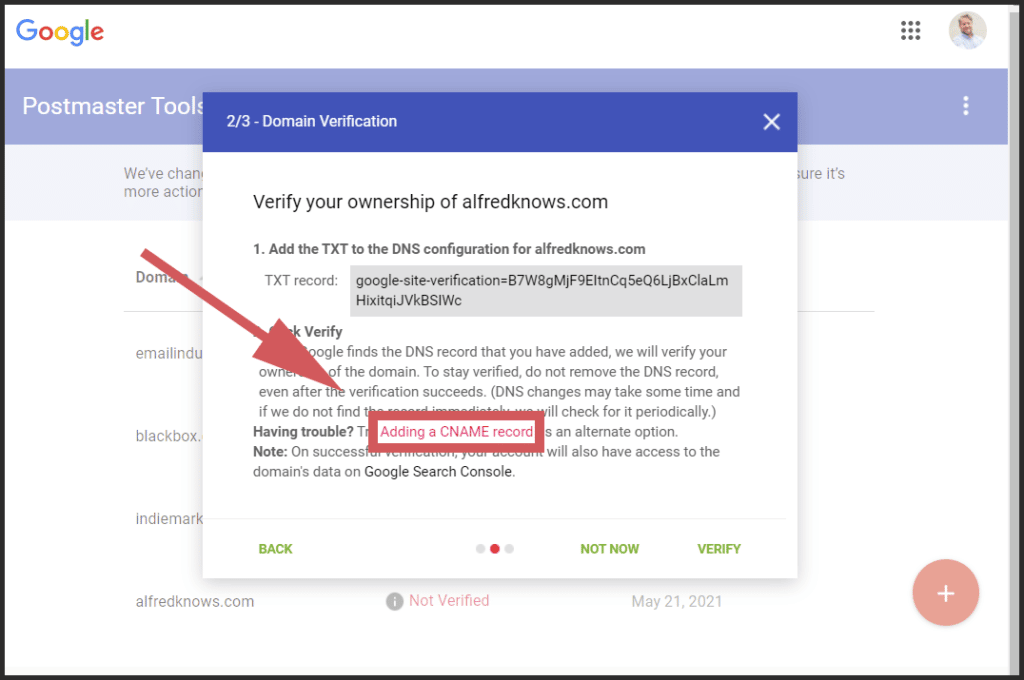 You will then be provided with the CNAME label/host and CNAME destination/target.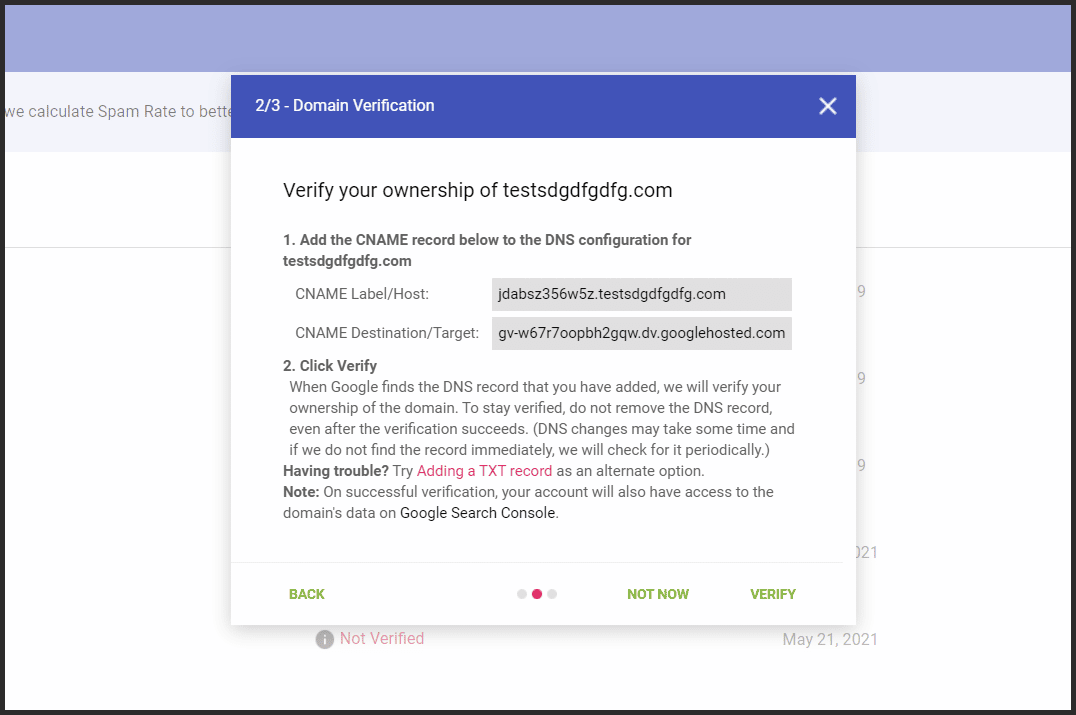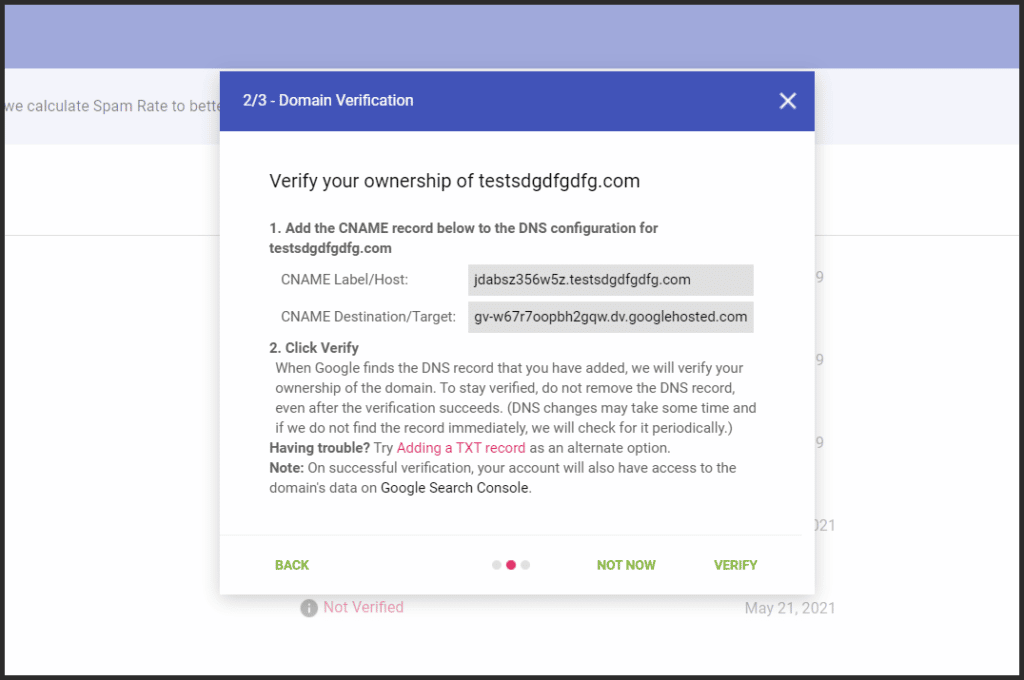 Copy the text in both fields and save them and send it to your IT team or do it yourself.
NOTE: If you're going the DIY route, remember to add a CNAME record, not a TXT record to your DNS.
Once the records have been added to your DNS, return to the Postmaster page to verify ownership.
You've set up Google Postmaster Tools, now what?
If it's a new domain, Google Postmaster tools data may not appear until at least 1,000 emails have been sent using the new domain but once your data is being populated, here's what data is available the following drop downs available.
Spam Rate
IP Reputation
Domain Reputation
Feedback Loop
Authentication
Encryption
Delivery Errors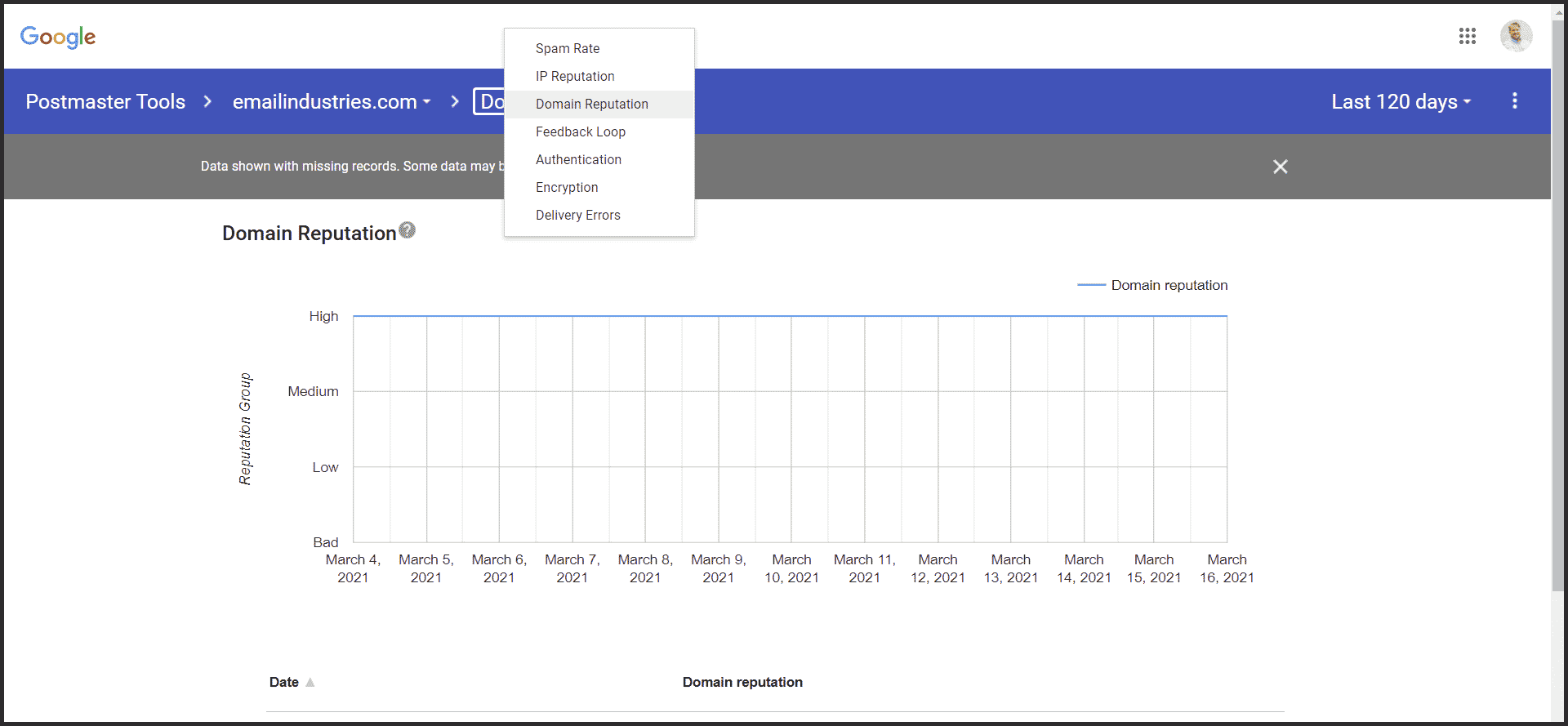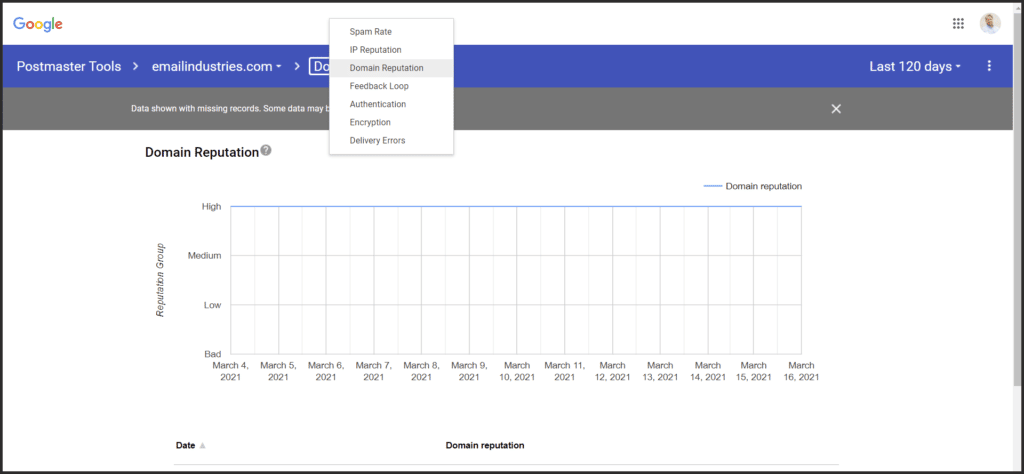 The option on the far right defaults to 7 days but you can change it to a longer time period if you're not seeing any data.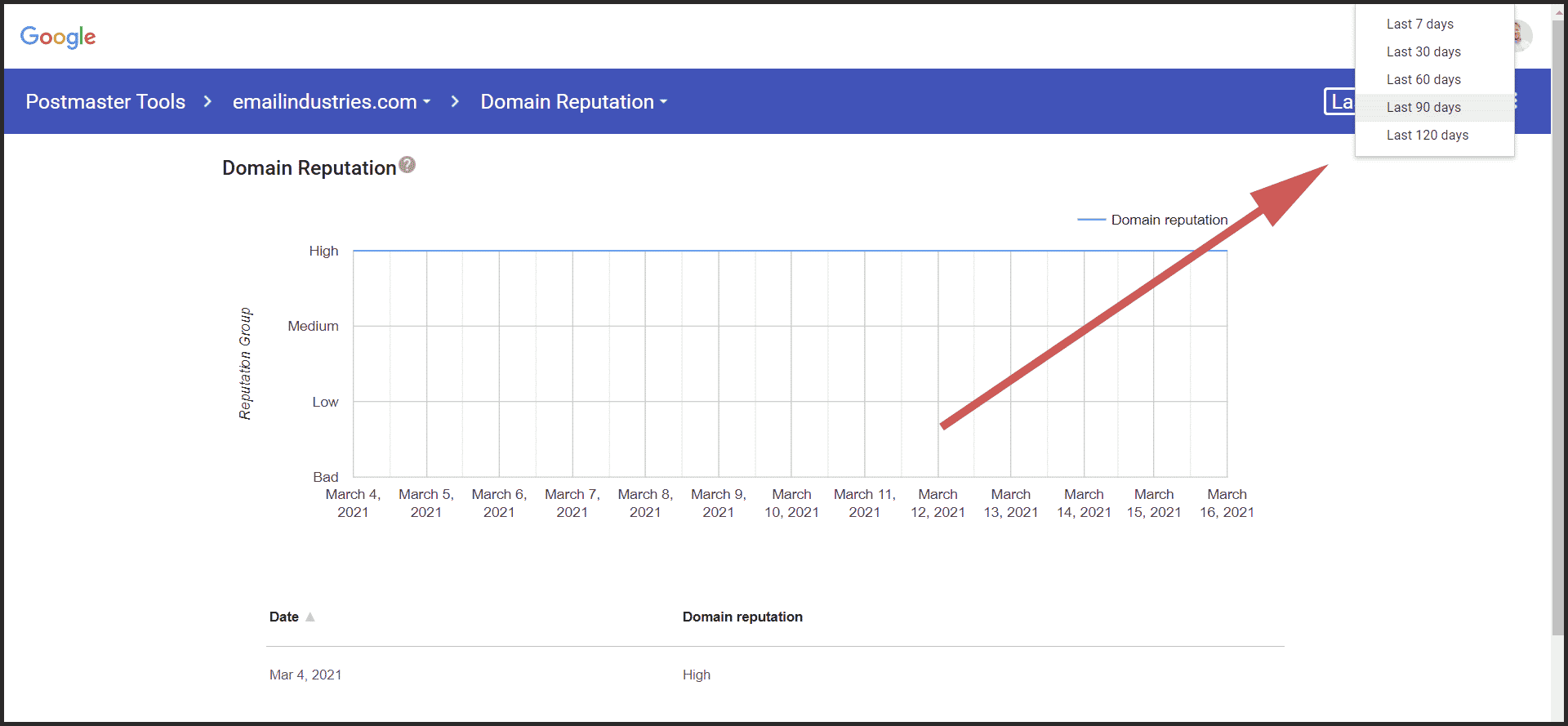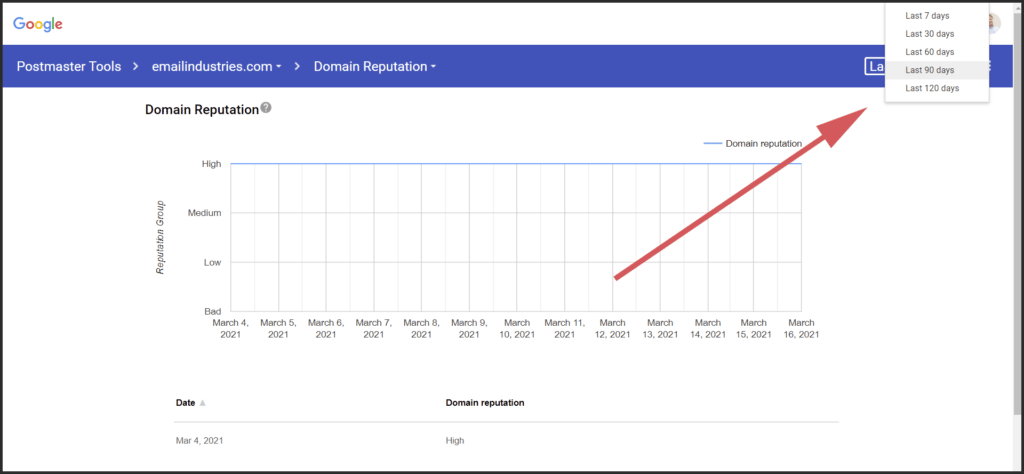 Next: How to add a new user to Google Postmaster Tools
We create a separate step-by-step guide: How to Add a User to Your Google Postmaster Tools Account
Need expert help with your deliverability?
For more than two decades, our deliverability experts have been helping senders and vendors hit the inbox—and increase market share. Contact us
Founder and CEO of Email Industries